This Is Spinal Tap - Message (U)

"Nigel," the interviewer asks, "Do your songs have a message?"
"Well, it's about the music, innit?" He looks at David, who nods.
"Yeah. That's the message, the music is the message."
"You write music about music? That's what you're saying?"
"No," sighs David, "the message is
in
the music."
Nigel agrees. "People hear the music, and hear the message, which is 'listen to our music'."
"Then, they realise they're
already
listening to the music."
"That's right. So they buy it."
"Unless they already have, because they're listening to it."
"So," the interviewer nods, "the medium is the message?"
"...What medium?"
---
The medium is the message.
Marshall McLuhan
Powered by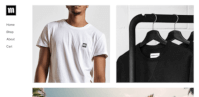 Create your own unique website with customizable templates.